Your friend Martha has been bragging about her heated towel rack all winter long. Your in-laws just had one installed in their beach house in Nantucket. You read in House Beautiful that a heated towel rack in your bathroom will charm the pants off prospective buyers and you could easily add a little extra to the listing price.
So it's settled then. You want one too. In fact, you need one. Where to start? What sets heated towel racks apart? What's the difference between a cheapie off Amazon and the ones décor magazines speak of?
It's the quality, darling
You know what's wrong with the world? Nothing lasts anymore. We live in a throw-away culture where products are no longer designed for lifetime use.
Don't give in to that when buying a heated towel rack. You are looking for one that will last – at least your lifetime. The key to quality here is highly durable and corrosion-resistant Grade 304 stainless steel. Which is what all Bathroom Butler heated towel racks are made of. And, the material is guaranteed for 15 years. Do not, and we repeat, do not settle for anything less.
You're smart, your bathroom is smart
Architectural Digest recently wrote about the most-wanted, ultra-cool gadgets that transform bathrooms into the smartest space in the house. And yes, you guessed it, heated towel racks are one of them.
You may think they're smart because they dry your towels, killing off bacteria while adding a dash of warmth, and indeed, that's correct.
But what makes our racks genius-level smart is the technology. Wi-Fi-enabled switches, no less. Download the WeMo app and command your heated towel rack to switch on and start drying your towels so you can have a spa evening when you get home.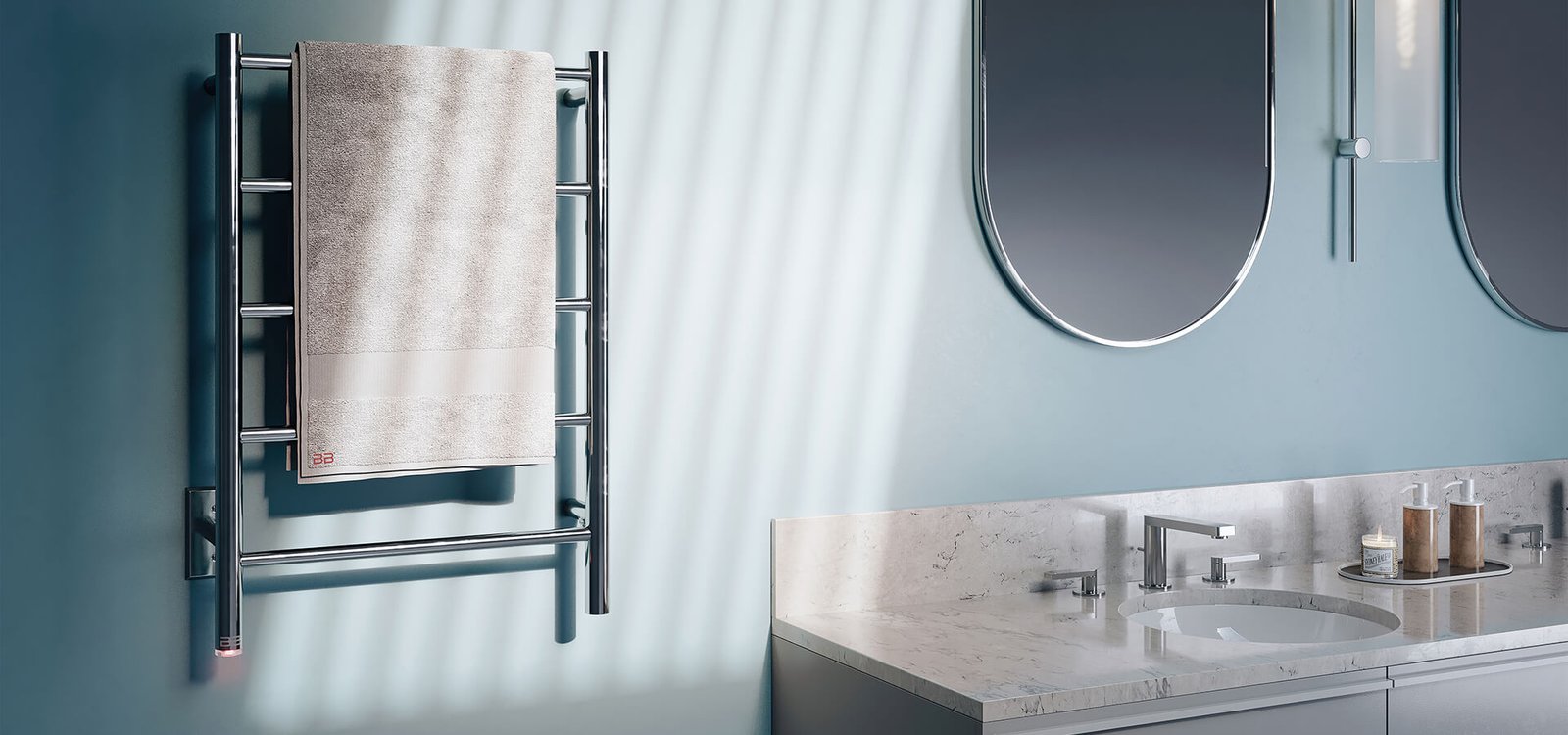 Style is not an option, it's a must
Bathrooms are going bold this year and beauty is a top design goal. So when you pick your heated towel rack, you want something that compliments your expensive taps and tiles.
And boy are you spoilt for choice with us! Our designers spent endless nights dreaming up four incredibly yet distinctly different towel rack design collections so that you can decorate and accessorize your bathroom to match your individual sense of style. Industrial, geometric, modern, natural, it's all there.
And so are the finishes. Selected racks in our Natural and Cubic heated towel rack collections, for instance, are available in matte black and they even have accessories to match. If the timelessness of stainless steel is what you want, you can choose between two quintessentially modern finishes: polished or brushed. Take a look at our unique Edge Collection for inspiration. Our heated towel racks are also available in custom colors, so if you want something to match your ultra-luxe rose gold taps, you can get it.
Size doesn't always matter
Pool room, mud room, powder room. Two family bathrooms back at the ranch, or one closet-size bathroom in your micro apartment. Don't let the size of your bathroom get in the way of buying a heated towel rack. We have one for you.
This trend is your friend
Martha and your in-laws are on to something. Don't be left behind. Beautiful bathrooms high on functionality – and smart to boot – are the most-wanted design elements in the busiest room in your house.
You want your bathroom to be an invigorating space for rushed mornings, and a sanctuary for precious me-time in the evening. Now tell us how a dry, fluffy towel with a touch of warmth is not going to give you that.
More bedtime reading before you buy