Find the perfect bathroom accessories in the United States, South Africa, or Australia to enhance your bathroom's form, function, and feel at home. 

With the bathroom being one of the essential rooms in the house, thoughtful accessorizing will reward you with a luxurious oasis you'll love. 
We've curated a list of the best bathroom accessories for 2022, including eight of our favourites. So how does your bathroom stack up? Have you found these eight unique bathroom accessories yet?
1. Our famous toilet paper holder with flap
We bet you've asked yourself why on earth some paper holders have flaps. In reality, there are several good reasons.
From an aesthetic point of view, the flap enhances the design while neatly hiding the toilet paper roll. 
From a practical point of view, it assists with tearing, so you pull off just the amount of paper you need. 
It is also highly recommended in wet rooms or compact bathrooms, protecting the paper from splashes. Now you know!
Find out about Bathroom Butler's famous toilet paper holder, available in South Africa, the United States and Australia.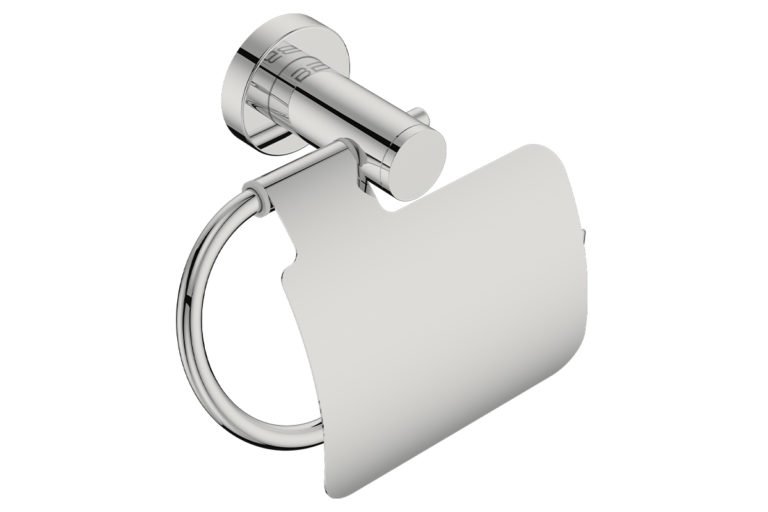 2. Snazzy glass tumbler holder with crossbar
The humble bathroom glass tumbler, originally only used for swishing because the plumbed water was no good to drink, however, today it doubles up as a toothbrush and toothpaste holder as well as a drinking vessel.
If you value all things good-looking, you'll love this one for its elegant crossbar profile placing the glass at an angle.

Oh, and the glass is secured in the stainless steel ring with a silicone band to prevent it from slipping out. Stylish and smart!
Check out this stylish glass tumbler holder with a crossbar available in South Africa, the United States and Australia.
3. Multipurpose towel shelf and hang bar
If your biggest problem is a small bathroom with no storage and space to put your belonging, we have a solution. The sleek and sturdy towel shelf and hanging towel rail hold two folded towels side-by-side without the slightest problem. 
The shelf above can store extra towels, your collection of bathtime essentials, or even a flowerpot or a tiny fish tank.
Find out more about this multipurpose towel shelf in South Africa, the United States and Australia.
4. The best shower foot rest
Unbelievably, some people still put a shaving stool in their showers. Not only do they perilously shift around, but they also take up lots of space and add to your shower cleaning chores.
Instead, go for our elegant shower footrest, affixed with the immovable RIGID Loc Mounting System, and that hardly takes up any space at all.
It's ideal for those with back or mobility issues and others who want to enjoy the best leg shave of their life.
Learn more about the best shower footrest on Bathroom Butler, available in South Africa, the United States and Australia!
5. The ultimate toilet brush and holder
The gladiator would have loved this setup, especially in matte black. A perfectly shaped frosted glass toilet brush holder set in the best stainless steel money can buy.
It's wall-mounted so it doesn't topple over, yet by placing it discreetly next to the bowl you don't have to lock eyes on it all the time.
Plus, it's secured with a stainless steel ring and silicone insert which makes for sturdy stuff.
Check out the ultimate toilet brush and holder in South Africa, the United States or Australia, on Bathroom Butler today!
6. An elegant glass shelf
The perfect combination where beauty meets functionality. This shelf is a classy and timeless addition to your bathroom when adding additional storage and displaying your beauty and body products.
The arms of the shelf are manufactured from Grade 304 stainless steel and a 13inch wide strong tempered glass shelf that is secured into the arms with round backplates. Available in Polished, Brushed and Matte Black in Australia, South Africa and the USA.
Check out the elegant Glass Shelf in South Africa or Australia, and the United States on Bathroom Butler today!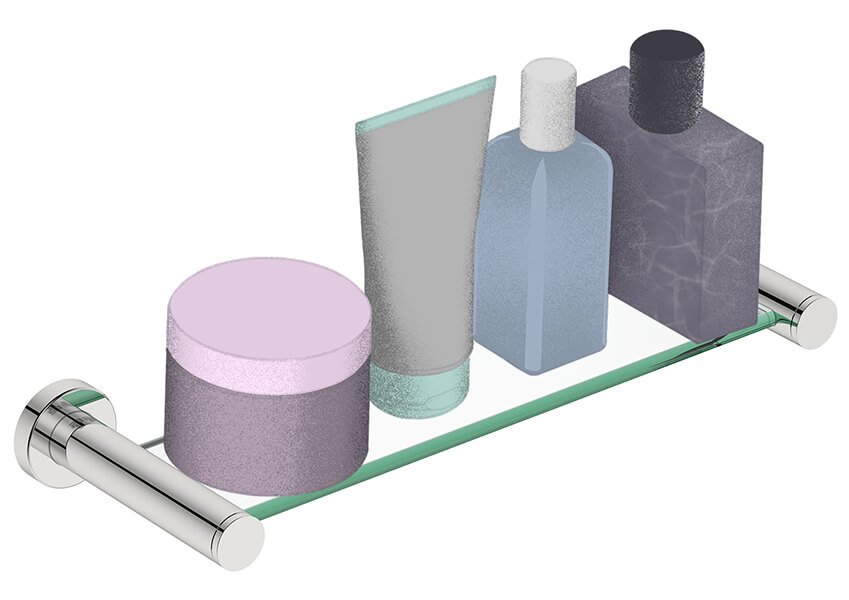 7. Our popular shower rack
This shower rack is what bathroom accessories dreams are made of. Designed with a bottle bar to prevent bottles from sliding off and falling. A metal grid at the base allows for water drainage and airflow, making it ideal to store your shampoo bottles, shower gel or shaving cream. It's perfect for creating an organized shower area. Made from Grade 304 Stainless steel, it is ideal for use in a wet environment.
If you're interested in buying this shower rack for your home be sure to view our collection in South Africa, the United State and Australia.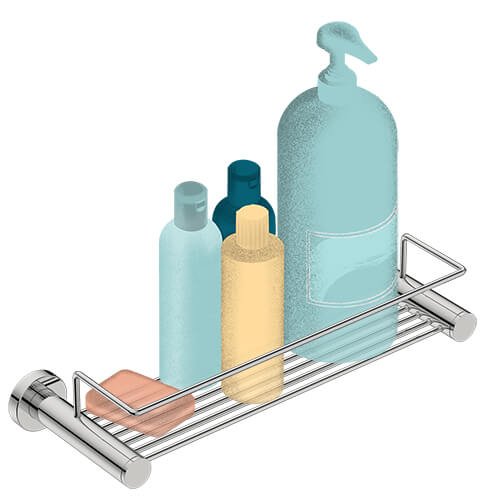 8. Robe hooks fit for royalty
Nothing is as elegant and understated as a robe hook. They are designed to hang towels, robes, loofah or bath sponges. Perfect for extra storage and keeping your bathroom clutter-free.
Our stainless steel single and double robe hooks will add both a practical and premium visual feature.
We offer Robe hooks in square and round styles secured on the surface with our RIGID Loc mounting; it will remain in place. Select your favourite robe hooks to upscale your bathroom, available in Brushed, Polished and Matt Black. We also offer Brushed Champagne Gold in South Africa.
This elegant double rook hook is available in South Africa, the United States and Australia.
Final thoughts on choosing the right bathroom accessories
The highest form of bathroom chic is to be able to accessorize with matching pieces that are highly functional and compliment your unique bathroom design and décor.
Bathroom Butler's variety of bathroom accessories in South Africa, the United States and Australia consist of exquisite ranges that will take your bathroom design to the next level, and are guaranteed to last 15 years.
We also offer resources to help you find the right heated towel rack, get rid of unpleasant bathroom smells and expert tips for a bathroom remodel.