Giving your bathroom a makeover? Not so fast! Many homeowners spend a few nights on Pinterest then attempt to execute a big idea. Thing is, while your soon-to-be-new bathroom might look picture-perfect, could you be overlooking an important detail that might fill you with regret? To ensure your renovation is a smart one, take a look at a few of these factors many tend to overlook when redoing their bathroom.
Don't forget about ventilation
Bathrooms are naturally damp places. Ideally, you'll want one with windows – the bigger the better – to prevent mould and bacteria from setting up shop. However, you could also install an exhaust fan. The latter is ideal if you live in a northern state with a long, hard winter. After all, the last thing you'd want to do is crack open a window while you're taking a bath in a blizzard! It'll also cost you a fortune to heat your house if all your warm air is perpetually escaping out the window.
Think about storage
Many people give their bathroom a dream makeover and suddenly realize they don't have storage space. That gorgeous framed mirror you chose over a bathroom cabinet looks fabulous, but where are you going to put your night cream? Sure, we all love a floating vanity area – but what's going to happen to your spare towels? Fortunately, if you're working with a small space, there's a lot you can do to capitalize on space. For example, a Bathroom Butler towel shelf with a hang bar is a great way to hang two folded towels side by side and add a stack of them to the top. You could also consider one of our 43" double towel rails. They can easily hold two unfolded large bath sheets and, because they're made from Grade 304 Stainless Steel, they're never going to sag, buckle or bend!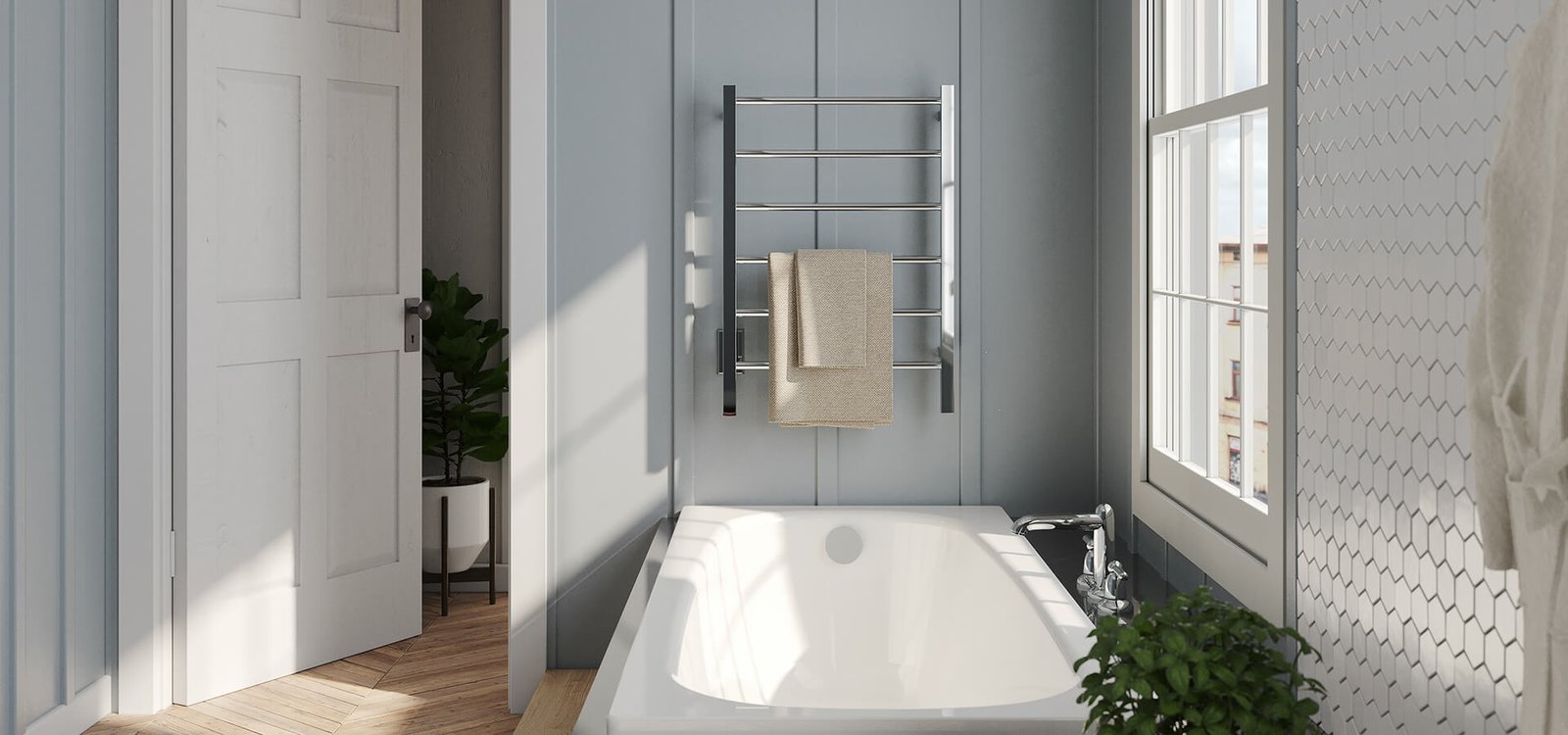 Get real about accessibility
If you're renovating your bathroom intending to use it for a decade or two, don't forget about accessibility. Right now you might not have any problem getting into your shower or bath. But will it always be that way? Also, what happens if a less mobile relative moves in with you later on down the line? You don't have to add in any grab rails today, but do leave space for them should you need them in the future. Then, when designing your shower, consider a walk-in, curb-less design. It's these little things that can make a huge difference as well as save you a lot of money – and maybe even a move – in the future.
Add a little luxury
A lot of renovators put so much focus on ensuring they've ticked off all the essentials that they forget about adding a little luxury. And why not? When you think about it, your bathroom is a space you'll use several times a day and a place where you'll want to relax. There are lots of things you can do to add a touch of luxe. These range from choosing a bath with whirlpool jets or simply adding tiny details like a footrest in your shower. One of the easiest ways to create a five-star feeling, however, is to add a heated towel rail. This way, you'll never have to worry about reaching for a damp towel ever again. In fact, they'll be bone dry with a lovely touch of warmth!
Ultimately, when it comes to renovating your bathroom, it's easy to create a space that's practical as well as luxe – provided you pay close attention to all the important details, big and small.