The once humble bathroom has become one of the most exciting spaces in the home, prompting designers to shop far and wide to transform it into something that's both an uncluttered retreat yet fulfills all of our self-care needs.
When shopping for bathroom accessories, you're looking for pieces that pop, are made of top quality stainless steel and absolutely do what they're supposed to do. Even a little more. Let's look at our hand-picked selection of must-haves from Bathroom Butler's vast collection of premium bathroom accessories.
Never off the rails
Aah the humble single towel bar. Whatever you will do without it. But why one from Bathroom Butler? If you ever did ballet, you'll immediately want to hold on to it and practice a couple of pliés. That's ok. You can go ahead and do it without worrying that you're going to pull the 43 inch Single Towel Bar from the wall for the simple reason that it is attached via an innovative mounting system called RIGID Loc. Unlike the older grub screw or set screw method, RIGID Loc ensures the bar won't come loose or wobble free. It's the only towel bar you want. Another benefit? The towel bar will not bend or sag thanks to the sturdier construction and material choice of high grade stainless steel.
Put your foot up
Shaving one's legs is always a cumbersome process involving deep bends (an issue for those with back pain or limited mobility) and sometimes awkward seating positions on the edge of the shower pan. Now if you had a shower foot rest, you'll ask yourself why you didn't buy one decades ago. It can be placed at whatever height suits you and if you go for the 4600 Series Shower Foot Rest, you have the choice of polished, brushed or matte black stainless steel to best suit your bathroom vibe.
Hang in there
Is your bathroom too small for a regular towel bar? Don't cup your eyes and cry. We've got you covered with our gorgeous Towel Shelf and Hang bar. This cleverly designed accessory has space for not one but two folded bath towels to hang side by side on the hang bar, and extra space on the top for a couple more. Install this beauty at the end of a bath or, if your bathroom is the size of the space shuttle's, above the toilet.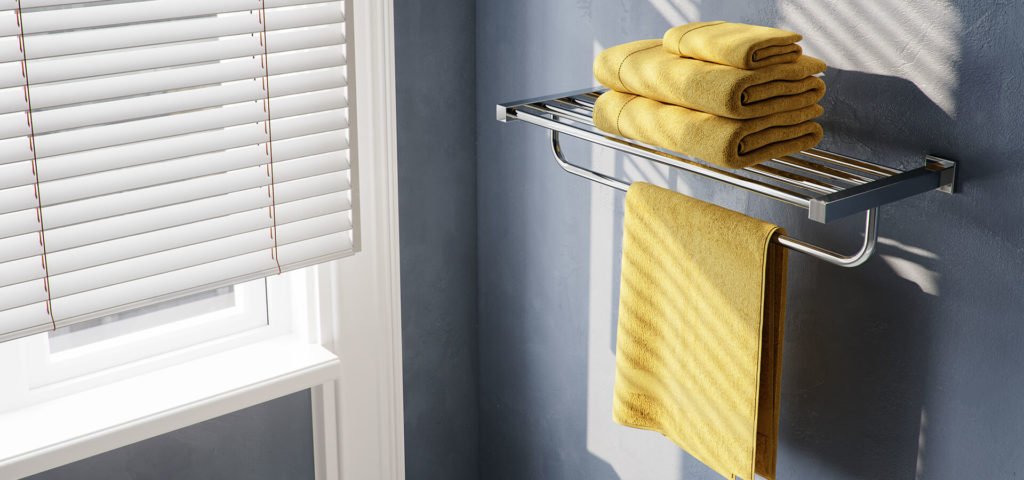 Three for the price of one
Folks tend to prefer having all their shower-bound toiletries in one place so you don't have to spin around the cubicle to get the shampoo from the floor and the soap from the slippery ceramic soap dish. Our 9100 Series Shower and Soap basket is the ultimate answer! It has two useful hooks for hanging your shower sponge and razor, enough depth to prevent bottles from toppling over, and a generous soap dish.
More is more
We've all been there which is why we can talk about it. You've just answered nature's call and reached out for some toilet paper – only to find the roll is empty. Aaargh! We're not going to go into how you solved this little problem, instead we're going to offer you a permanent solution: the 5804 Spare Toilet Paper Holder. Our secret seller is designed to store two extra toilet rolls and its slim design ensures it can be mounted discreetly next to the bowl. Plus, we gave it a clear Perspex disc that supports the toilet roll directly on top of it, ensuring the toilet roll holds its shape. How clever is that!