Heated towel racks are flying off the shelves. Research shows the market for these is growing year on year and they're not only requisite in hotels and spas, they're being installed in mudrooms, laundry rooms, gyms, pool houses and smart bathrooms across the globe.
This may cause a slight case of FOMO, but you've come to the right place. Allow us to explain why heated towel racks are de rigueur, and what the benefits businesses and savvy homeowners see in having heated towel racks installed as par for the course.
#1 They really do dry your towels
Drying towels is
an electric heated towel rack's
most important function.
Unless you live in the Sonoran Desert with hot winds sweeping through your windows, or you're a billionaire who can summon up dry towels with the snap of your fingers, you are not going to have dry towels 24/7 unless you have an electric heated towel rack. How does it work? It comes down to the fold. By folding the towels twice then draping them on the rack it traps the warm air, ensuring a thorough drying in a matter of hours.
#2 They kill nasty mold and bacteria
Towels are bacteria traps.
We transfer them via dirty hands and
they breed in the damp, warm and absorbent
environment of a used towel.
Left to languish in a heap on the floor, mildew will also start to grow, giving the towels a musty odor. When you hang your towels on a heated towel rack, on the other hand, the heat immediately starts to dry the towels and can reduce their bacterial load by up to 90%! It's beneficial to all of us, but even more so for those suffering from mold allergies or skin conditions.
#3 They add a luxurious touch of warmth
Although many still think
adding warmth is a heated towel rack's main function,
it isn't.
But it surely is a benefit you'd want to brag about.
You know how you sometimes don't want to get out of the hot shower or bath for fear of facing the cold? Now if you could immediately wrap yourself in the comfort of a luxurious, freshly-warmed towel, it would make all the difference to your routine.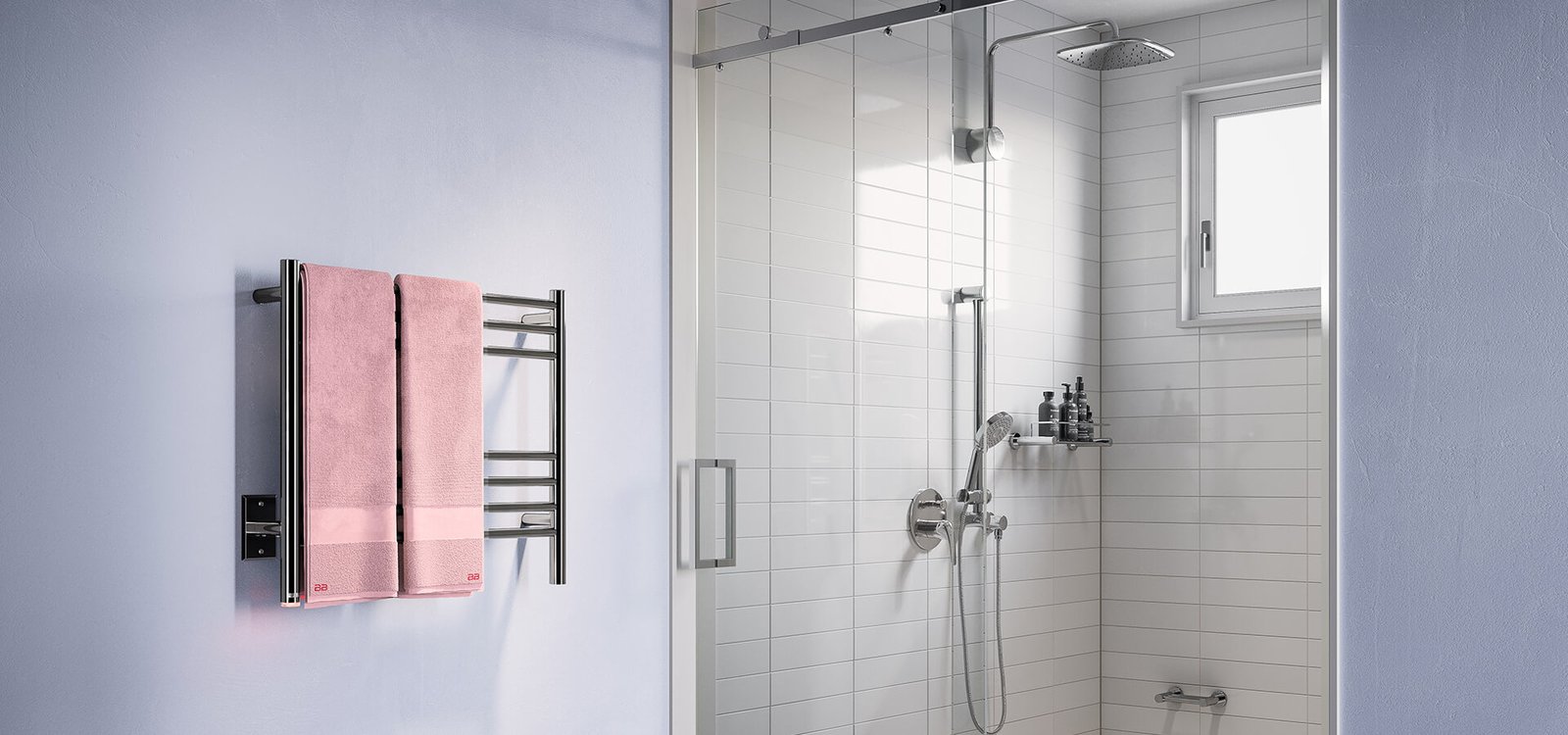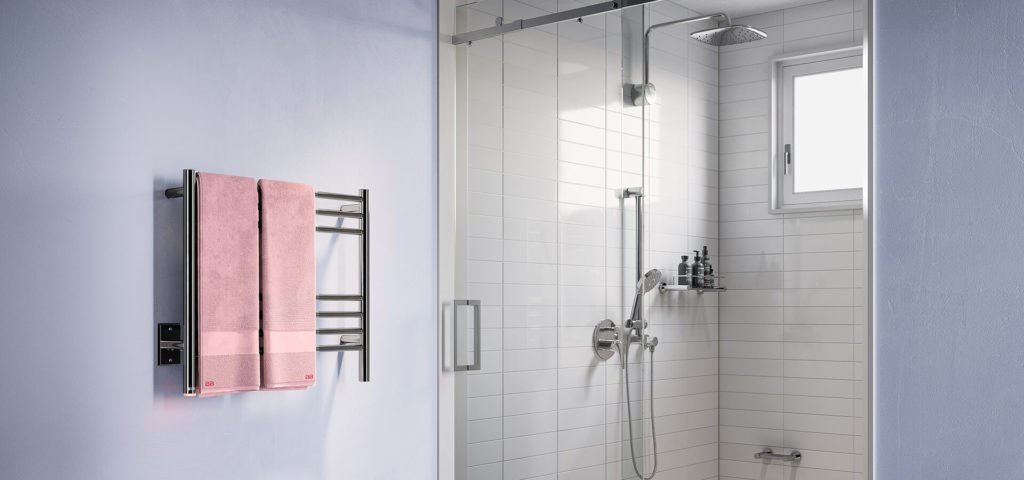 #4 They're a gorgeous way to hang towels
Not only do our designer heated towel racks
give your bathroom a look of luxury,
they are all wall-mounted, offering a smart,
multi-function way to store or hang your towels.
Our space-saving Natural Collection 15-bar 17inch heated towel rack for instance, can dry a combo of one folded bath sheet plus two folded bath towels, or four folded bath towels – all in one go. Or maybe you'd like the stylish Edge Collection 10-bar heated towel rack that can hold two bath sheets plus has heated horizontal bars on the top shelf for extra storage space.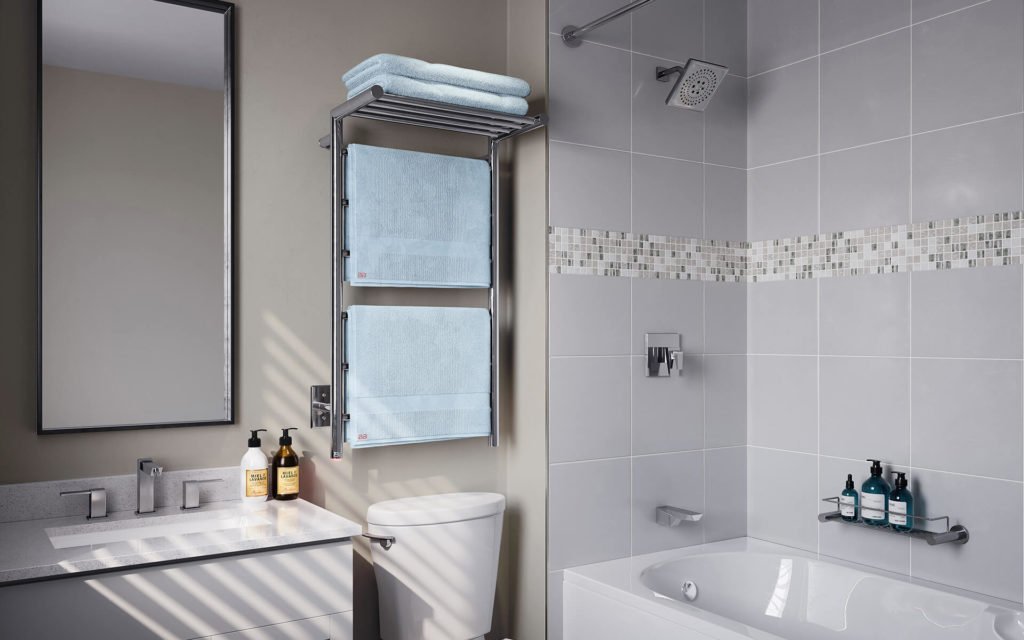 #5 They are energy savers
On average,
depending on the size,
our heated towel racks only use about as much electricity as a 60-Watt to 180-Watt light bulb in an hour.
Now compare that to a tumble dryer that can use an excess of 3,000 Watts in a single cycle!
In short, our heated towel racks help you save the planet while having less laundry, win win.
Now you know all this, take a look at the heated towel racks in the Bathroom Butler US online store. We're confident you'll find one that will suit your bathroom décor and design style and is guaranteed to have all the benefits that have made these appliances soar on the bathroom must-have trend list for the 21st Century.