The towel-warming lifestyle has become so popular that ordinary folks are finding it a maze of confusion they weren't ready to step into.
A heated towel rack or towel rail? An electric towel warmer or a heated towel rack? What's the difference, and does it really matter which one you get?
Yes, it matters, because heated towel appliances (for lack of a better word) aren't all created equal. They differ in size, shape or placement; they all function differently and draw different amounts of power from your grid. The good news is, you're spoilt for choice and never have to resort to warming your towels in the tumble dryer or (horrors) microwave ever again!
Which one is right for you is going to depend on factors such as the size of your budget, your bathroom, your family, and the type of climate you live in. Let's step in.
Heated towel racks and rails 101
Heated towel racks and heated towel rails are one and the same thing. They're attached to a power source and mounted on your wall, and like magic, they provide you with a steady stream of dry, hygienic, towels with an added touch of warmth all year round. When you choose heated towel racks from Bathroom Butler, you have the added benefit of choosing a finish, style and color that fits right in with your personal or home décor style.
Despite the completely different visual appearance the second biggest difference between a heated towel rack or rail and an electric towel warmer is the heated towel rack's most important job is to dry your towels, with the extra important benefit of enveloping you in a comforting touch of warmth when you step out of the shower.
You may have to fork out a little more for a heated towel rack with all the bells and whistles (think a WiFi-controlled timer!) but once these bad boys are heated up, they use only between 40 and 180 Watts, so in the long run they are definitely economical. Plus, a quality rail or rack will last a lifetime.
One of their biggest plus points is how they can be neatly tucked away against the wall and warm up a number of towels at the same time, leaving space in your bathroom for other must-haves, such as an oxygen-giving plant or chic vanity chair.
Towel warmers 101
Even though mounted racks and rails are sometimes erroneously called electric towel warmers, that's not correct and no doubt has caused many frustrated buyers to return their purchase faster than you can say pass me a warm towel.
Electric towel warmers are just that. They warm towels. They do not dry towels. In fact, the towels have to be bone dry before you put them into the electric towel warmer. So they're ultimately a luxury for those who have nothing left to buy.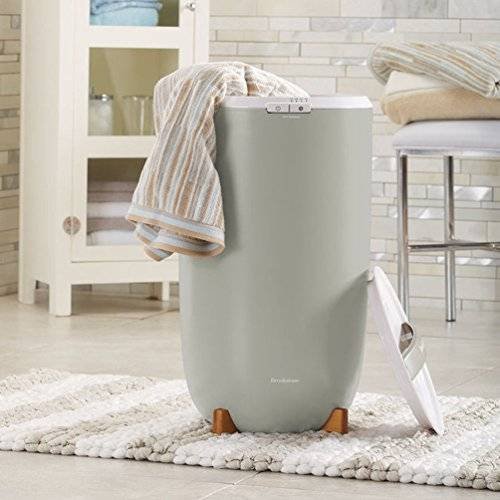 The fastest way to recognize them is to look for the word 'freestanding'. Electric towel warmers most commonly come in the shape of a fancy bucket with a lid and have feet that allow you to plonk them down in the vicinity of your power outlet. They can take up to three towels at a time (depending on their size), and you could also use them to warm up gowns, blankets or sweaters before you head out into the cold.
As mentioned, you can only put items that are already dry into an electric towel warmer, so if you shower more than once a day, you'll still have to dry your towels in a drier – or use two sets of towels that day. You will also need to get your timing right as electric towel warmers take a while to warm items through and with a 500-Watt electricity usage, they will cause a spike in your power bill. As we said, a luxury.
Freestanding heated towel rack 101
While we are talking about differences, there is often a question the difference between a freestanding and a wall-mounted heated towel rack or rail. These are essentially much the same as mounted heated towel racks or rails, but they come in the shape of simple towel stands – like the ones used in Victorian days before rails became a thing. Only now, they're wired to provide toasty towels on demand.
They could fit your bathroom style quite nicely, but you would need a reasonably sized bathroom to begin with. Who really wants another thing standing around? Some reviewers have also mentioned that they can burn to the touch, or heat unevenly, so buy wisely if you're going for one.