Following on from the housing boom of 2020, this year is seeing a continued home-renovation boom among millennials who bought fixer-uppers, and boomers who are investing in remodeling.
Whatever your reason for giving your home a facelift, now would be a good time to consider the effect your outdated and energy-heavy appliances have on the climate, making everywhere drier, hotter, colder or wetter than ever before. We're talking about environmentally-friendly, smart appliances. Let's take a look at what that means for your bathroom.
Think you're smart
Along with the bathroom remodeling trend comes a host of smart home accessories that could make your life so much easier – while saving our planet. Time to rethink repeating the habits of the past, and move on into the future!
Among the smart devices heading for your bathroom are inventions such as a stillness bath, water-monitoring systems, a motion-sensor toilet flush and shower that dispenses just the right amount of shampoo and conditioner. And should we mention a toothbrush that alerts you via an App to go brush your teeth? It's an example of how smart devices help us stay healthy.
Ready or not, smart home innovations aren't only good for the environment, they're the key to safer, healthier living inside and outside the bathroom.
The Internet of heated towel racks
You've got Wi-Fi in your home, right? Well that is the door that opens a world of convenience and reliability. There are literally thousands of appliances and devices that can connect to the Internet and can be programmed or told to switch on or off. It's the IOT (the Internet of Things), and a Wi-Fi-enabled switch for a heated towel rack is one of those things.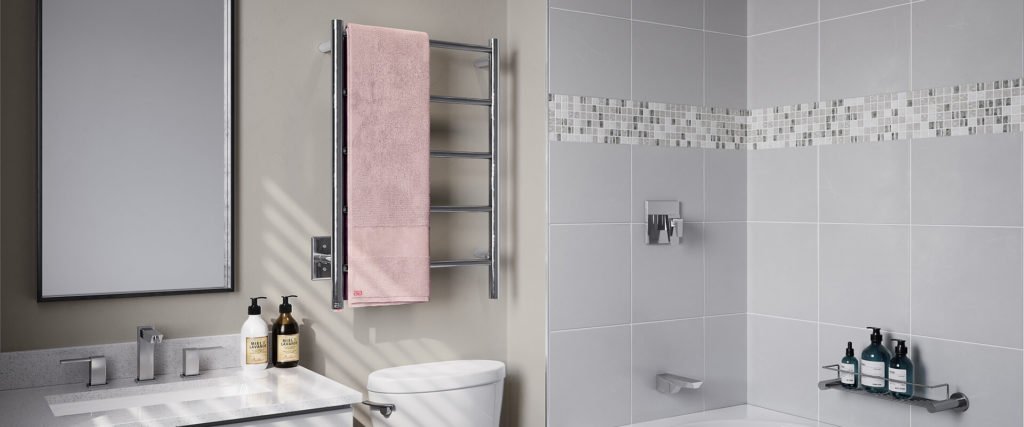 So back to that remodeling. If you're determined – as you should be – to install a heated towel rack, do a little planning ahead of time.
Where are you going to put it? What size heated towel rack do you need? Where will the wiring go? Only once these important steps are mapped out, can you go ahead and replace the walls with mold-resistant natural stone, plumb in the steam shower and install your heated towel rack.
A heated towel rack with Wi-Fi-enabled switch isn't only smart because it works with the Wemo App (allowing programming that translates into energy savings), it fits right in with the trend of building healthy habits into the bathroom.
The non-porous Grade 304 Stainless steel it's made of is 100% recyclable, won't rust or chip, and is self-cleaning. No bugs or mold sticks to it and, most importantly, it dries your towels – killing off bacteria – in a matter of hours. All this saves you having to wash them as regularly as you used to, putting money back into your pocket.
A change is as good as a holiday
Remodeling your bathroom into a smart, private sanctuary filled with accessories and appliances that silently work away at manual tasks, may be just the holiday at home you need.