A must read before you buy
A wall-mounted heated towel rack is a great way to ensure you enjoy a daily dose of comfort and luxury. The only way to understand that feeling of a dry towel every morning is to experience it off a heated towel rail.
Also, if you've been using a tumble dryer to dry your towels, making the switch can help you reduce your energy bill – but only if you buy smart. There are lots of different types of heated towel racks on the market and not all of them will be clever purchases. Happily, we've created a guide to help you purchase the best of the best.
Know your type
What's going on inside your heated towel rack?
If it's filled with fluid it's going to be very heavy, take a long time to heat up and you'll run the risk of leaks. For these reasons, it's best to buy a dry element towel rack such as those you'll find at Bathroom Butler. Thanks to our exclusive Dry Element Technology (DET), our towel racks' bars heat up via a silicone-coated wire. When a towel is placed over them, the area under the towel will get even warmer, but the exposed parts don't. It's a much smarter and safer way to roll. Or dry your towels.
Size matters
Choosing a heated towel rack with the correct towel holding capacity fit for your needs should be your first consideration.
If you're livin la vida bachelor you don't need to heat up enough towels to dry a soccer team. In this case, you'd need something like our NATURAL 5 Bar 20" heated towel rack that can easily dry two folded bath sheets.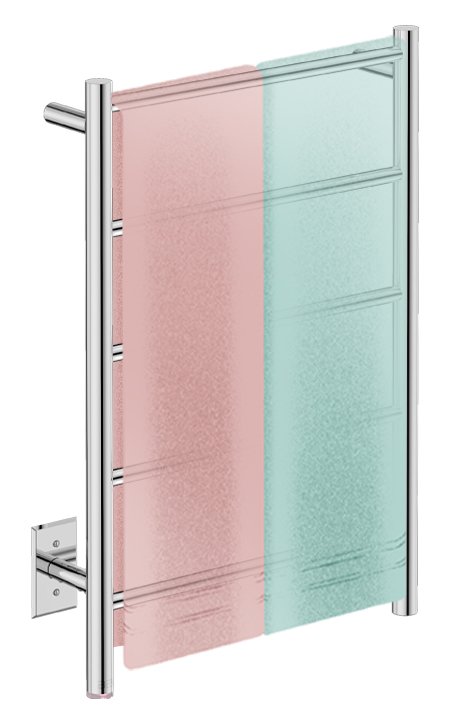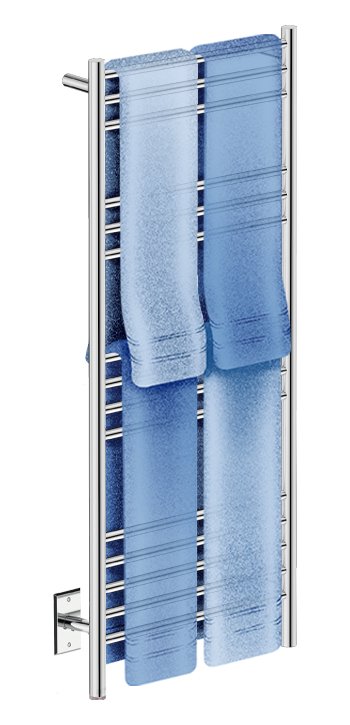 However, if you're wanting to install something in a family bathroom it's best to think big – or possibly face stiff competition to be the first to get into the bathroom each morning. We have lots of larger towel racks that could fit the bill, including our NATURAL 15 Bar 20" heated towel rack. Which can comfortably hold four folded bath towels or 3 folded bath sheets!
The perfect placement
Ideally, you want to mount your heated towel rack as close to your bath or shower as possible. Still, you need to consider where your electricity is coming from.
Many consumers forget about this and end up purchasing a towel rack with wiring that ends up being on the wrong side. Can we get an "Aaaaargh!"? Fortunately, this isn't a problem if you're buying from Bathroom Butler. All our heated towel racks feature dual electrical entry – on the bottom left and the bottom right. This way, you can plug them in on either the left or the right hand side. Also, if your plug point sat higher up the wall, you could flip our towel racks and install them upside down. For the record, you couldn't do this with the fluid-filled type as their heating element always has to be on the bottom to prevent it from burning out.
Know your metal
Heated towel racks are made from different materials, and all are not created equal.
In Europe, aluminum is a popular material used to make heated towel racks. Manufacturer's tout the fact that it heats up quickly as a big pro, but the downside is that it doesn't retain its heat for as long as steel. It's also not as sturdy. Then there's chrome-plated steel. This is where things get dicey because there's no industry standard regulating that quality of the plating and, if you end up with something lightly coated, it's going to chip, scratch and rust. This is why our Bathroom Butler heated towel racks are made from super strong, rust-resistant Grade 304 stainless steel to ensure they last decades, not just a couple of years. And as for slower heating? That's not true at all! All our heated towel racks can heat up within 10 to 15 minutes!
Ultimately, when you know what you're looking for and can make an informed choice, it's easy to buy the very best.