Toilet Brush + Holder (4838)
Our wall mounted toilet brush & holder has round design features, is compact in size and manufactured from the highest grade stainless steel which is hygienic and rust resistant. The stainless steel ring is designed with a removable frosted glass holder that is kept in place by a silicone insert ensuring that it remains secure but can easily be removed for cleaning. The toilet brush fits perfectly into the glass bowl and can be purchased separately should you ever need to replace yours.
Size: 114mm (width) x 149mm (depth) x 390mm (height) 
Key Features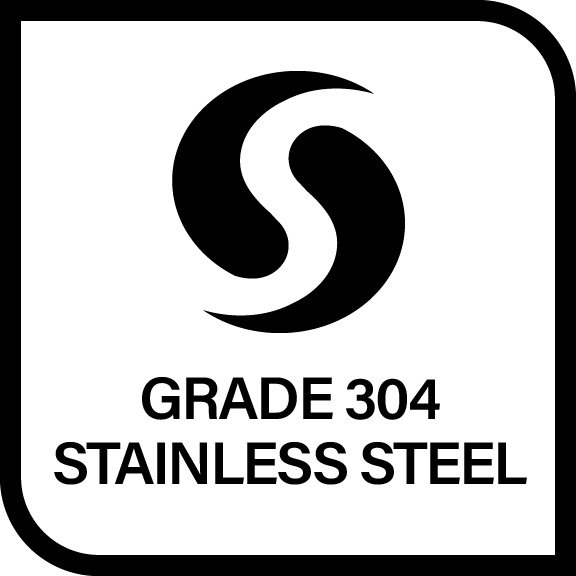 The buthroom Butler Difference
Show more...
Bathroom Butler
Difference
The buthroom Butler Difference
Show more...
Description
Of all the rooms in the house, the bathroom needs to be clean and hygienic, which can't happen without a proper toilet brush. A wall mounted toilet brush, installed nearby and conveniently within reach when needed is a neat solution to this necessity. the brush head will be concealed in the frosted glass bowl displaying a polished round handle. All brushes and handles are available to purchase separately.
Features:
Stainless Steel construction ensures durability
Easy to install
Fixing System: RIGID Loc Mounting System
This product uses our patented RIGID Loc mounting system which is designed to ensure the bathroom accessory remains secure to its mounting and will not rotate.
Material: GRADE 304 Stainless Steel
Stainless Steel has a natural resistance to corrosion and therefore does not require any protective coating which makes this material ideal for the bathroom environment. The shiny polished finish of Stainless Steel is often confused with a Chrome finish, however the two could not be more different. While Stainless Steel will not peel or flake, Chrome products on the other hand are susceptible to chipping and pitting due to the nature if a coated product.
Cleaning and Care:
To keep your product in pristine condition, simply wipe it down with a warm damp cloth and then buff dry with a microfiber cloth. You could also, on occasion use a Chlorine-free stainless steel cleaner to maintain the shine. If you use stainless steel polish, make sure it is abrasive free. When cleaning wall surfaces around your bathroom accessories do not use any household detergents that may contain Chlorine based chemicals such as bleach as it will cause permanent damage to the surface of the stainless steel product.
What's in the box:
4838 Toilet Brush and Holder
Fischer UX 6mm Plastic Plugs (2 pieces)
Wall Screws (2 pieces)
2.5mm Allen Key (1 piece)
Installation Instructions (1 piece)
Mounting Template
Tools needed (not supplied):
Drill & Drill bits
6mm Diamond drill bit – if drilling through ceramic tiles
6mm Masonry drill bit – if drilling into Masonry (Brick)
Measuring tape
PH2 Pencil
Screwdriver
Spirit level
Installation tip:
Check for water pipes before deciding where to drill
In Masonry walls, always drill a smaller pilot hole first for better sizing and location accuracy
Warranty
Manufacturing Warranty:
All components of Bathroom Butler® stainless steel bathroom accessories with RIGID Loc Mounting system, excluding the colour finishes, are guaranteed against any manufacturing defects for a period of 15 years from date of purchase, as printed on the sales docket, which must be provided as proof of purchase. This updated Guarantee only applies to bathroom accessories with RIGID Loc purchased after 1 January 2020, all bathroom accessories with RIGID Loc purchased prior to 1 January 2020 carry a 10-year Limited Guarantee. All other bathroom accessories without RIGID Loc mounting system carry a 5-year Limited Guarantee.
Colour Finishes: All PVD coated and other colour finishes are guaranteed against any manufacturing defects for a period of one year from the date of purchase.
Excluded from this warranty are damages resulting from force majeure (Acts of God), including, but not limited to, lightning and floods, fair wear and tear, misuse, wilful damage, negligence, repair of device without the approval of Bathroom Butler® or damage resulting from incorrect installation.
The manufacturer's liability is limited to repair or replacement of bathroom accessories only. No claim for consequential damage and/or labour and/or transport will be entertained. Damages arising from misuse of the bathroom accessory will render the warranty invalid.
This warranty is only valid when the product has been purchased from an authorised reseller or country/territory distributor and is only valid within the geographical borders of the country/territory that it was originally purchased. This warranty only extends to the original purchaser of this product and is not transferable.