NATURAL 12 Bar 500mm Curved Heated Towel Rail with TDC Timer
Create a feature wall in your main or second bathroom with this 500mm 12 bar rail. The curved horizontal bars provide a softer aesthetic and can dry 4 bath towels. Fitted with a programmable digital timer for on/off functionality and temperature adjustment.
Key Features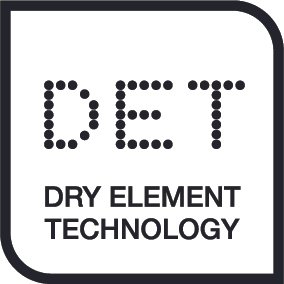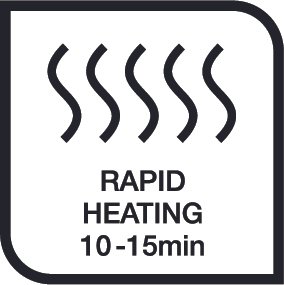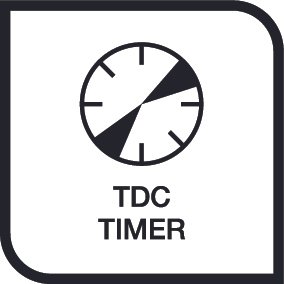 The buthroom Butler Difference
Show more...
Bathroom Butler
Difference
The buthroom Butler Difference
Show more...
Description
Dry towels mean less bacteria. Our heated towel rails are designed specifically for this purpose. Using the technology of Rapid Heating, our rails reach optimum drying temperature within 10 to 15 minutes and towels dry within 4 to 5 hours when folded into four layers, trapping the heat underneath the towels, resulting in 90% less bacterial build up. The energy usage of this rail is equivalent to two and a half light bulbs or 150 watts. Less laundry washes, more savings.
Towel Holding Capacity: This model has the capacity to dry 3 x folded bath sheets or 4 x folded bath towels.
Heated and Drying Times: 
Heated Towel Rail to Heat-Up: 10 – 15 mins
To add a touch of warmth to a dry towel: 30 – 45 mins (when folded correctly in four layers)
To dry an average used, damp towel: 4 – 5 hours (when folded correctly in four layers)
Estimated Running Cost: R40/month* (*Electricity costs calculated according to July 2020 COJ rates average cost R1.48/kwh. Based on running time 8 hours/day at 75% setting)
Built-In Controller: The Total Digital Control (TDC) Timer allows you to program your heated towel rail to run automatically in 4 different modes of operation within a 24 hour period. Save electricity and reduce running costs by up to 75%. You can also adjust the heat to your desired level for all-year round use, turn it down in summer and turn it up in winter.
Electrical Wiring: This electric towel rail is hardwired and the electrical connection must be completed by an electrician. This product has a Dual-Entry electrical connection which means it has both LEFT and RIGHT electrical connections, and can be connected to any of the two sides straight out of the box to better suit your electrical point.
Material: Grade 304 Stainless Steel
Stainless Steel has a natural resistance to corrosion and therefore does not require a protective coating which makes this product ideal for the bathroom environment. The shiny polished Stainless Steel finish is often confused with a Chrome finish, however the two could not be more different. While stainless steel will not peel or flake, chrome products on the other hand are susceptible to chipping and pitting due to the nature of a coated surface.
Cleaning and Care: To keep the product in pristine condition, simply wipe it down with a warm damp cloth and then buff dry with a microfiber cloth. You could also on occasion, use a Chlorine-free stainless steel cleaner to maintain the gorgeous shine. If you use a stainless steel polish, make sure it is abrasive free. When cleaning wall surfaces around your heated towel rail make sure not to use any household detergents that contain Chlorine-based chemicals such as bleach, this will cause permanent damage to the surface of the stainless steel.
What's in the box: 
Heated Towel Rail
Mounting kit which includes masonry wall fasteners [Fischer UX 6mm Plastic Plugs and Screws (2 pieces), Fischer UX 8mm Plastic Plugs and Screws (3 pieces)]
Installation Instructions (1 piece)
Mounting template (1 piece)
Tools needed (not supplied): 
Drill & Drill bits
6mm and 8mm Diamond drill bit – if drilling through Ceramic tiles
6mm and 8mm Masonry drill bit – if drilling into Masonry (Brick)
Measuring tape
Pencil
PH2 screwdriver
Spirit level
Installation Tip: 
Check for water pipes before drilling
In Masonry walls, always drill a smaller pilot hole first for better accuracy regarding location and sizing
Specs
Heated Towel Rails Specs:
Model: NAT12222-TDC
Size: 518mm (width) x 1235mm (height) x 109mm (depth)
Power: 150 Watts
Current: 0.65 Amps
Volts: 230 VAC
IP Rating: IPX5
Material: GRADE 304 Stainless Steel
Time Needed for Heated Towel Rail to Reach Optimum Temperature: 10 - 15 mins
Time Needed to add a touch of warmth to dry towels: 30 -40 mins (when folded correctly in four layers)
Time Needed to dry an average used damp towel: 4 – 5 hours (when folded correctly in four layers)
Suggested Height of Electrical Outlet = 750mm (this is only an indication as every installation is different)
Standard Finishes Available: POLISHED Grade 304 Stainless Steel
Controller Specs:
Controller: TDC Timer
Features: 4 On/Off programs in a 24hr period + Temperature Adjustment + 4 Modes of operation + Screen Auto-Lock + One button push - QUICK RUN + 24hr Clock
INPUT Voltage Range: 190VAC~250VAC
Operating Frequency: 50 Hz ±2%
Load Capability: 0.18A~4A
Load Control Range: 40~100%
Standby Current: 3.0mA
Warranty
Manufacturing Warranty:
The Bathroom Butler® heated towel rails (HTRs) are manufactured from polished stainless steel. All stainless steel components of Bathroom Butler's HTRs, excluding the colour finishes, the heating element, PTSelect Switch and TDC Timer, are guaranteed against any manufacturing defects for
 a period of 15 years from the date of purchase
, as printed on the sales docket, which must be provided as proof of purchase upon return of the goods. This updated Guarantee only applies to HTRs purchased after 1 January 2020, all HTRs purchased prior to 1 January 2020 but before 1 August 2013 carry a 10 Limited Guarantee. All HTRs purchased prior to 1 August 2013 carry a 5 Limited Guarantee.
Heating Element: The heating element is guaranteed against any manufacturing defects for a period of 5 years from the date of purchase.
Controllers: The controllers which include the PTSelect Switch and TDC Timer are guaranteed against any manufacturing defects for a period of one year from the date of purchase.
Colour Finishes: All PVD coated and other colour finishes are guaranteed against any manufacturing defects for a period of one year from the date of purchase.
Excluded from this warranty are damages resulting from force majeure (Acts of God), including, but not limited to, lightning and floods, fair wear and tear, misuse, wilful damage, negligence, repair of device without the approval of Bathroom Butler or damage resulting from incorrect installation.
The manufacturer's liability is limited to repair or replacement of HTRs only. No claim for consequential damage and/or labour and/or transport will be entertained. Damages arising from misuse of the HTRs will render the warranty invalid.
This warranty is only valid when the product has been purchased from an authorised reseller or country/territory distributor and is only valid within the geographical borders of the country/territory that it was originally purchased. This warranty only extends to the original purchaser of this product and is not transferable.
Frequently bought together